Ahmedabad, known as its historical and industrial identity, is also known as the 'heart of Gujarat'. The city is also known as Master Businessman in the world. Not only this, Gandhiji taught the lesson of Satyagraha and non-violence in this city. In this way, this city is a materialistic and self-sacrificial spirit city. Ahmedabad is full of sightseeing in terms of tourism. Tourists from all over India and abroad are visiting here.
Ahmedabad is the economic capital of Gujarat. The city was named after Sultan Ahmed Shah. Gandhiji started the Salt Satyagraha movement by starting the Dandi March from Sabarmati Ashram in Ahmedabad. Ahmedabad city is a place that has many historical monuments, no shortage of modern attractions, big malls and movie halls, Hatthiasing Jain Temple, Sidi Sayyid Mosque, Swami Narayan Temple, Jama Masjid, Mahudi Jain Temple, Akshardham Temple , City Walls and The Gates, Rani no Hajiro, Jhoolta Minara, Sarkhej Roja, Dada Hari Vav, Adalaj terraced well etc. are the major attractions here.
Ahmedabad
Ahmedabad With many variations, Ahmedabad represents Indian culture well and is the seventh largest metropolis in India. Ahmedabad is considered to be one of the fastest growing cities in India.
Juma Masjid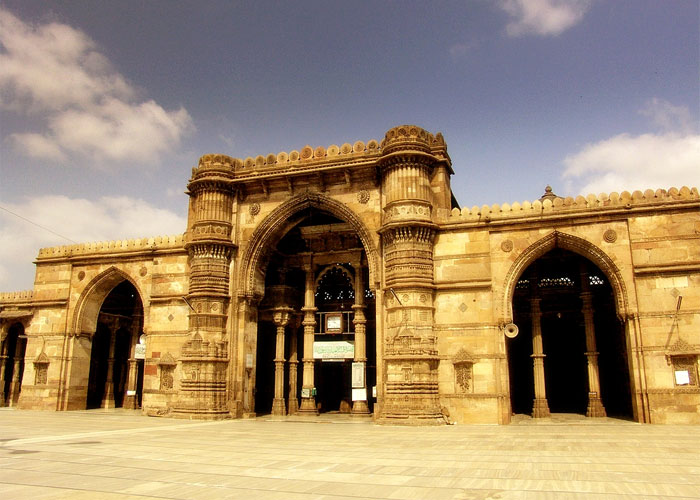 Juma Masjid is one of the most beautiful and artistic mosques not only in India but in the world. This structure is made of yellow sandstone. And its courtyard is made of marble. It is surrounded by a column passage and Arabic calligraphy remains on these columns.
Rani Rupmati's Mosque
Rani Rupmati's Mosque is a living example of artistic style. The specialty of this mosque is that despite the direct sunlight, there is always light in its central part.
Jhulta Minara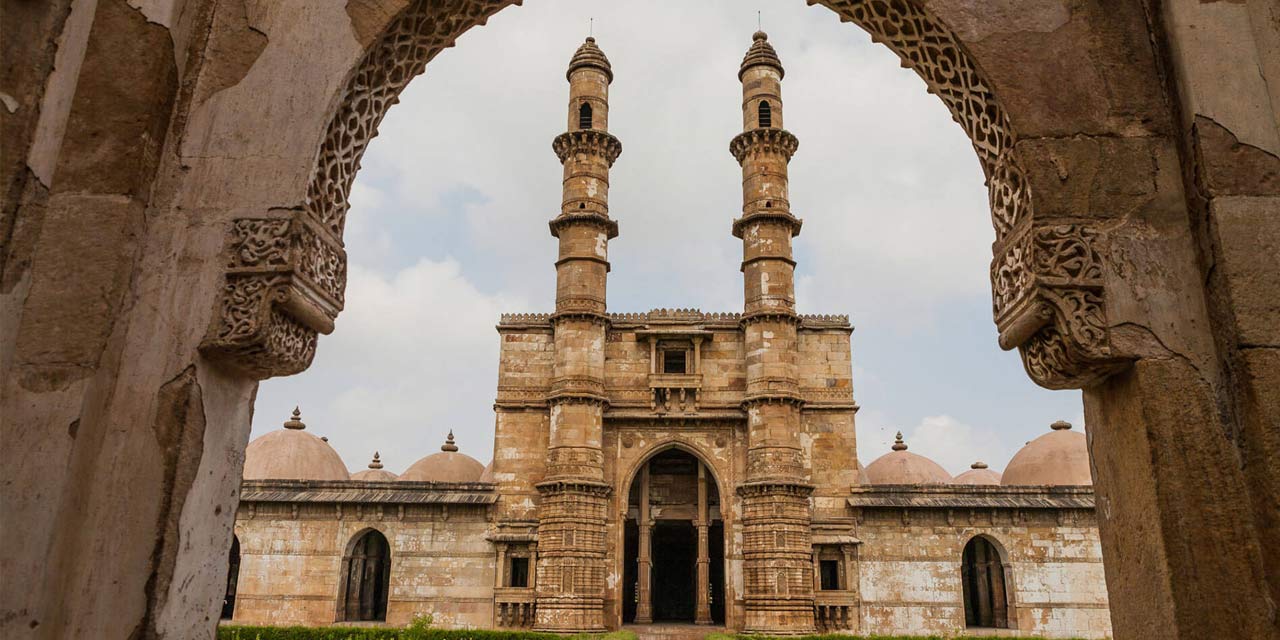 Jhulta Minara are one of the main attractions of Ahmedabad. The special thing about this pair of minarets is that when one tower is moving, after another, the other tower is also moving. The tower of the Sidi Bashir Mosque is three storeyed with a large carving in the balcony and is designed from stone carvings. It is believed to have been built by Sidi Bashir, a servant of Sultan Ahmed Shah.
Jain Temple of Hatti Singh
The Jain temples of Hatti Singh were constructed in 1848 AD. happened. The temple is dedicated to the 15th Jain Tirthankara Dharmanath and was built at a cost of Rs 10 lakh donated by Sheth Hathsing, a businessman from Ahmedabad.
Shahi Bagh Palace
This beautiful garden was built by Shah Jahan. Shah Jahan is said to have stayed at this place with his begum for a few days after his marriage.
Kankaria Lake
This is a beautiful lake. There is a beautiful garden in the middle of this lake. Kanakariya Lake was built by Sultan Qutubuddin. There is an island and a palace on the banks of this lake. There is a toy train which runs on one side of the lake, Bal Vatika which is specially made for children. There is also a boat club where tourists can also enjoy boating.
Bhadra Fort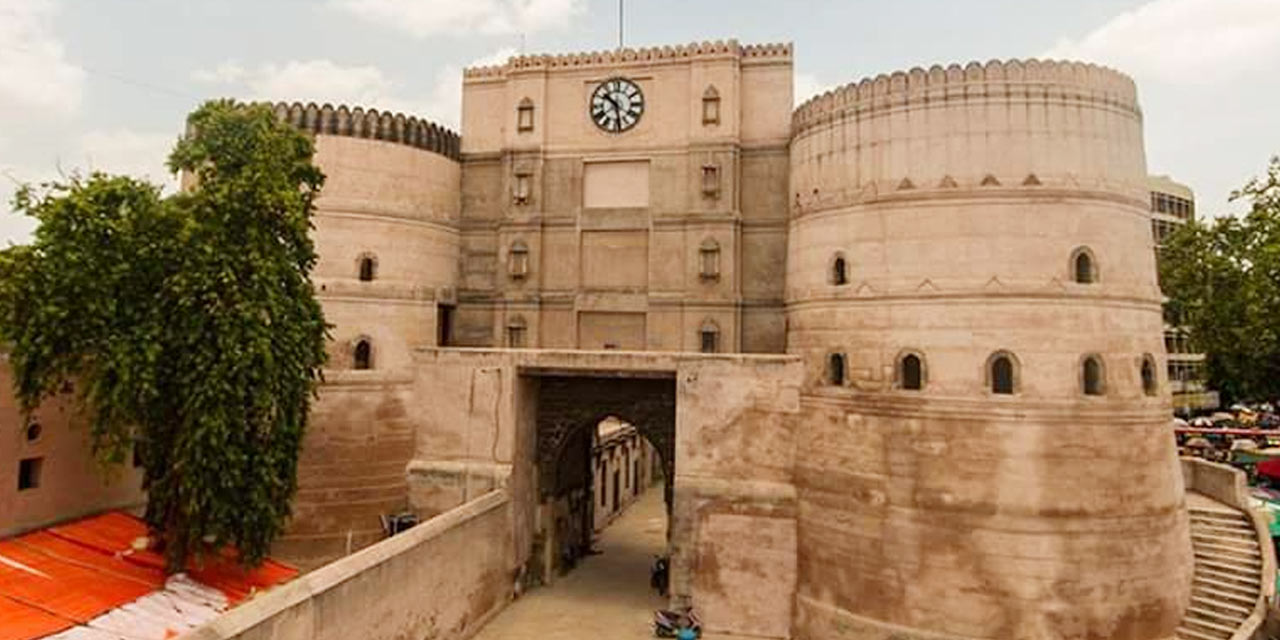 The fort of Bhadra was built by Ahmed Shah. This fort is a living example of architecture. There is a temple of Bhadrakali in one part of this fort.
Sidi Syed's Jali
Sidi Syed's Jali is a beautiful bay mosque. Which was built by Ghulam Syed of Sultan Ahmed Shah. This mosque is a unique example of artistic style.
Gandhi Ashram
Gandhi Ashram was built by Mahatma Gandhi, in which he took the reins of the freedom struggle. A museum has been built in this ashram. In which a lot of symbols related to Mahatma Gandhi have been collected.
Lothal
Lothal is located 87 km from Ahmedabad. Where 20 years ago, the remains of the second century Harappan culture were found.
Adalaj stepwell (Adalaj ni vav)
Adalaj is a village in Ahmedabad which is situated about 17 km from Ahmedabad. Adalaj is a well, with fine carvings on each pillar and on the walls. This well was built by Rupbai, queen of King Veerasingh.
Modhera's Sun Temple
The Sun Temple of Modhera is one of the scenic spots in Ahmedabad, the Sun Temple of Modhera which is a unique piece of architecture.