Whether you are visiting Los Angeles for the first time or you are a frequent visitor, the city never stops surprising you with its eccentric vibes. A week is enough in the city to get addicted to its beauty and lifestyle. There are so many things the city has to offer. Whether you are looking forward to booking a limousine service in Los Angeles for visiting a reputed club or you have plans to stroll around a beach, you can never stop having fun here.
Venice Beach:
Venice beach is one of the best attractions of the city. Consider it as the bohemian capital of the state. However, the place is now filled with the mainstream tourists, but you can still have fun on the boardwalk watching beautiful girls, muscular men showing up and skaters making their moves. The place is full of life.
Hollywood Walk of Fame:
The name of nearly 2,500 of the entertainment world's most famous personalities has been engraved in gold lettering. You can surely get a glimpse of one or two stars while enjoying your time here. The place has the memory of plenty of award functions, premiers, and galas over the years and it never fails to charm the visitors.
Disneyland:
No matter how old you are, you cannot miss having a great time at Disneyland. There are so many rides ready to thrill you and lots of other things to add fun. You cannot do everything that Disneyland has to offer in just one day.
The Broad:
The post-war art collection of the museum is outstanding. The unique design of the museum is also admirable. When you are in the museum, do not forget to get surprised with Yayoi Kusama's Infinity Mirrored Room.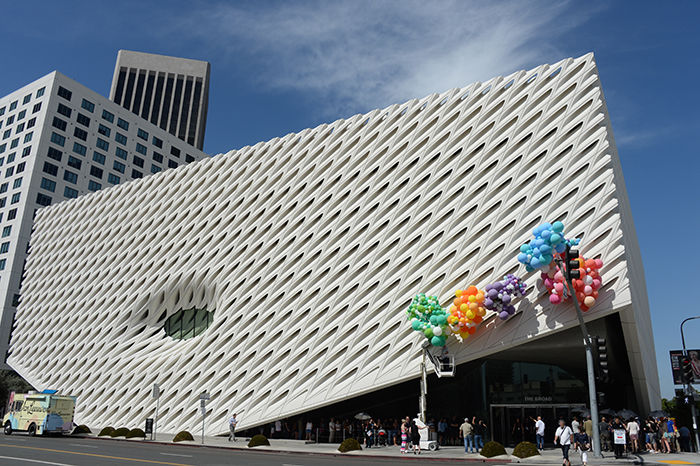 Walt Disney Concert Hall:
The hall has different programs and concerts throughout the year. If you are lucky, you can surely get to enjoy a concert. The auditorium has an open platform and it was designed by Frank Gehry. So this can be a perfect night to have good time in LA.
Shopping at 3rd Street and Fairfax Avenue:
When you just have plans for shopping and eating delicious food, there is no better place than 3rd Street and Fairfax Avenue. The open-air mall has lots of brands for shopping. So keep your wallet full when you go for endless shopping experience for a day.
Mulholland Drive:
The place is not only famous for having the same name as the movie, but the famous thoroughfares offer an unforgettable experience when you ride. You can finish the ride in an hour, but be careful when you have to take a turn at blind curves.
Avalon:
The party in Los Angeles never ends. If you are in a party mood, visit Avalon, city's most famous nightclub. The club offers the finest European house and techno music. So if your plan for the best night includes perfect music and dance then this is a proper place to stop by.
There are a lot more things that you can do in Los Angeles. This is the city full of rock stars, movie stars and rich and famous of all kinds. The city has the vibes of freedom. You can forget about the past and future and make the present unforgettable.
It is better to go in style. If you have the ride that makes you look classy then book a limo as nothing works like that. If you need any suggestion then you should go for Empire Limousine. The company is reliable and offers best in class services. So have your limo ready with a chauffeur and make the best memories in the city.