India is a land of early risers. No matter which part of the country you visit you will find incredible beauty in the morning experiences. From the melodious temple suprabhatam and household rangolis of the southern states to a dip in the Ganges in Hardwar and Rishikesh; from the bustling fish markets of Konkan coast to the languidly awakening markets in central India; from the floral market on the Dal Lake to the sounding of the sacred azaan in western UP; from the start of agricultural activities to the setting out of fishermen and shepherds – India is unequivocally the land of blissful mornings. Rajasthan, the royal and colourful state, is no different. Your experience of sunrise from a camp in the Thar desert will be just as scintillating as watching the dawn break from the ramparts of the Chittorgarh Fort. And if you are in the very capital of the state you must not miss out on these sunrise experiences –
Perched atop the Amer Fort -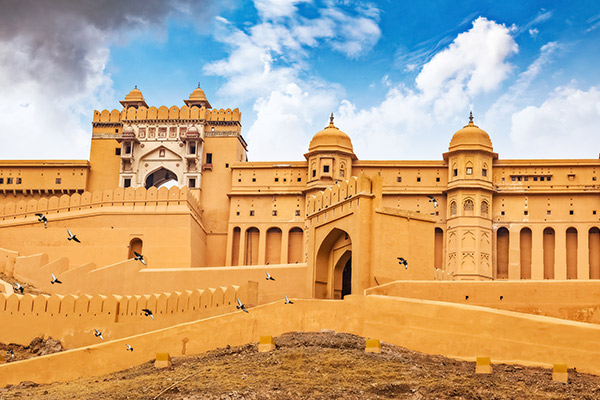 When you search for where to stay in Jaipur and places to visit, chances are the one place that came up as the top attraction of Jaipur is the Amer Fort. The sprawling and opulent, sandstone and marble fort that has been the heart of Amer, one of the most important royal kingdoms in the Rajputana, is known for both its beauty and its strategic location at a considerable height. The ramparts of the fort tower over the pink city and the sight of the city bathed in the glow of the rising sun is a mesmerising one.
From a boat on the Mansagar Lake-
The 300 acres large Mansagar Lake, named after Raja Man Singh, the Rajput ruler of Amer, is an artificial lake that surrounds the majestic Jal Mahal Palace. If you're mulling over the hotels in Jaipur with price the shores of the lake may be best just because of the stunning views. If it is sunrises, however, that you are interested in you must take a boat ride towards Jal Mahal before the sun goes up. The earliest rays of the red sun rippling through the waters and the imposing palace in the middle makes of an incredible sight.
From Nahargarh Sunrise point-
The Nahargarh Sunrise Point is undoubtedly the most popular place to catch the day's first sight of the fierce Rajasthan sun in Jaipur. The view of Rajasthan's capital from the fort atop the Aravalli mountains is a spectacular one. The only word of caution that we must throw in is that due to its popularity, this place is generally crowded during peak tourist season and you may appreciate the beauty of the sunset but may be deprived of the serenity.
From the Garh Ganesh temple-
The history of the Garh Ganesh temple is believed to predate that of the establishment of the city of Jaipur itself. The royal palace of Maharaja Sawai Jai Singh II was constructed in a way that the temple (perched atop a hill) would be visible from the bedchamber of the king. This temple often served as a survey point for the royal army of the Rajputs. The sunset from this temple is simply breath-taking.
What could be a more profound experience that observing the red rays of a rising sun from the steps of a temple dedicated to the Sun God himself. The Surya Mandir of Jaipur is part of the Galta-ji temple complex and can be reached by a short trek from Surajpol, the gate dedicated to the sun. The temple is located on a 200 meter high rocky outcrop and the stunning warmth and view accorded by the rising sun is an experience you are not likely to forget anytime soon. Do remember to take some food offerings for the monkeys that live in the vicinity of the temple.