Sri Lanka is an island famous for its beaches, it has a lot of beaches which are worthy of your time. There's a variety of water sports, places, restaurants, turtles to explore. The beaches stretch from east to west, from golden long beaches to long stretches of white sand. It is famous for the idyllic and dreamy scenery.
Given below is the list of 10 top-rated beaches of Sri Lanka you must definitely go and visit.
The name literally translates to "sandy village". It is quiet and serene. This is the beach for novice surfers with no fear of sharks. It is the ideal place for book lovers who want to enjoy their books while dipping their toes in the water. It's the perfect gateway from the chaos of city life.
This beach is a long stretch of white sand with crystal clear water. You can rent the sunbed and enjoy the fascinating sunset. At the end of the day, turtles pop up from the sand, it's a lovely sight. You can also try out snorkelling since it's clear water and surrounded by coral reefs.
This is one of the famous beaches of Sri Lanka, situated on the south coast. You can spot dolphins and whales, go swimming, surfing and walk around the beautiful beach. If you are into fishing, you can hire a boat, fish, and admire the coral reefs. Turtles hatch their eggs as well.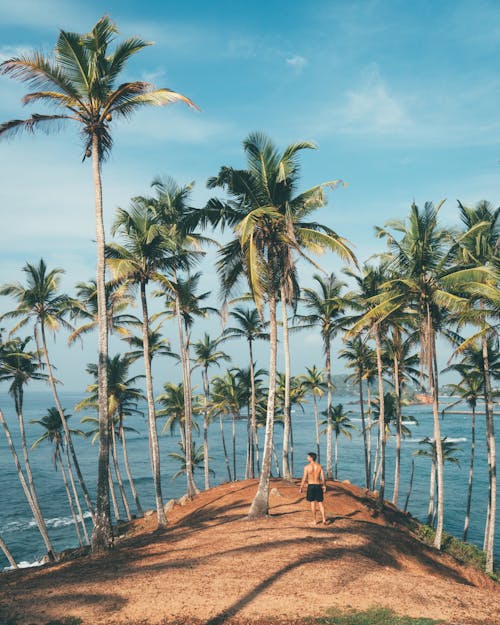 Galle has a beach as well as a fort. It is the perfect mixture of Portuguese architecture and SriLankan tradition with the largest existing sea-fortress. You can explore the Dutch architecture, walk on the thick ramparts by the side of the beach. There are plenty of boutiques and local shops to buy local souvenirs.
This beach is situated very close to the airport. It is famous for diving and snorkelling experiences along with bird watching in the calm waters of the blue lagoon. For the gem lovers, there are gem mines you can pay your visit and shop around. If you are visiting during the monsoon season, you will witness the amazing waterfall.
The perfect beach to get a natural tan. It is famous for the tranquil, blue waters. There is a sanctuary spa that provides with ayurvedic spa. You can enjoy Sri Lankan Cuisine at the Thaproban Beach house. This beach is renowned for turtle nesting. If you are lucky enough, you will spot a whale shark.
This beach is a treat to your eyes because of its scenic beauty. There is a village you can visit along with the hot spots. The water lagoon and Maagu River provides lush greenery. You can rejuvenate your mind and body by enrolling in wellness programs and ayurvedic spas.
This is a totally "Instagram worthy" beach. Quite known for the rare species of turtle found like Loggerheads and Leathery turtles. There is Martin Wickramasinghe Folk Museum where you can learn about SriLankan culture in detail. You can visit Koggala lake via motorboat and check out cinnamon plantations and Buddhist temples.
This beach attracts overseas tourists and has the most exotic nightclubs and hotels. The local community celebrates the Hikkaduwa Beach Festival which you can enjoy. There is a Coral sanctuary where you can gather knowledge about coral life and turtles, turtles eggs are hidden there in the sand.
This beach is the ultimate spot for surfers in the whole world. You can explore the hidden treasure of Pottuvil Lagoon. The blue water allows fishing and also underwater photography if you like. You will witness innumerable migratory birds if you visit off-season.
These are the most beautiful beaches you should visit when you reach Sri Lanka. So get packing, and head to Sri Lanka for a beachation!