I wasn't exactly 'Walkin' to New Orleans,' but it was a nostalgic return to a place I've visited several times, most recently helping with clean-up a year after Katrina. And, as with every visit but that one, food was on our minds.
By the way, for anyone who didn't recognize the pun in the headline...here's the source.
This time, as we've been doing in most cities lately, we started with a foodie walking tour, this one run by Tastebud Tours, which has several in New Orleans as well as Chicago and San Francisco. We took the Flavors of the French Quarter tour, and recommend it; a great combination of tasting, talking and background of the city and its food with Lyndell, who's a retired teacher and a native New Orleanian. That's her below, at our first stop, Tujague's.
Tujague's comes with a story, like everything else. The bar mirror is a Paris import, but the place started more humbly, in 1856, serving workers in the French Market across the street. Most notably, they served a 'Butchers' Breakfast,' of meat from the market; in the days before refrigeration, the Market was the only legal place for fresh meat, and by noon in summer, the last of the meat crossed the street to Tujague's.
The quiet dining room was a later addition. The building is actually much older than the restaurant, itself the second-oldest in the city. The site served as a Spanish armory before the city even got its present name. The first dish of our tour is one that can be found, in different flavors and consistencies, all over the area: red beans and rice.
And it has a history: Monday was laundry day, an all-day outdoor process along the river, and dinner had to be something that could be set up in the morning and left in a slow heat all day. We tasted a number while we were in the city, but Tujague's with its piquant flavor and chunks of ham was the one we liked the best.
Later in the week, we had red beans at lunch at Dookie Chase, a New Orleans classic we had wanted to visit for a long time, and which was closed for a long time by Katrina. It's on a limited menu, with a lunch buffet, but sadly, the food (known for years for its flavors) seemed bland, and the red beanswere heavily-flavored with thyme. One of the issues, we read: Leah Chase is 93, and won't stay out of the kitchen so her family limits the restaurant hours to force her to rest. And, the article said, they try to limit her to classics with no new innovations. Sad if true!
After a walk-and-talk through Jackson Square, with St. Louis Cathedral at its head, we arrived at our next stop, Laura's Pralines, where we were able to sample a variety of the local classic, and be tutored to say 'prawleen' not 'prayleen.' I admit to not being a fan of pralines, and spent part of my time admiring the variety of jelly fruit slices, which are an addiction. Sadly, my favorite cherry was far too sweet...but the orange slices were superb.
Along the way to Laura's we passed numbers of craft and souvenir kiosks and stands (nowhere in the French Quarter is without them!). I wasn't captivated by the crafts, but I couldn't resist a shot of this truly flash Schwinn serving as the tractor to a trailer of souvenirs.
After Laura's it was time for something a bit less sweet, and we got it with a lesson in New Orleans immigration history. In the 1860s, New Orleans was favored with significant new arrivals from Italy, and especially from Sicily. Their cuisine soon became one of the local flavors, with modifications of course. And a few quirks: what most of America calls 'sauce' is 'gravy' in New Orleans Italian; more than a few people's ears perk up on hearing of 'spaghetti with gravy.'
Our next stop was at a descendant of that wave, Little Vic's, which subtitles itself Sicilian Street Food. The particular food we shared there was a modern muffaletta. In origin, muffaletta is a large round Sicilian bread, In New Orleans, it's come to be that bread, split open and filled with marinated olive salad, mortadella, salami, mozzarella, ham, and provolone. A little oil and vinegar, and it's heaven...but really needs 2-3 people to eat it. Or a hungry worker; that's who it was really made for. Here's a typical one: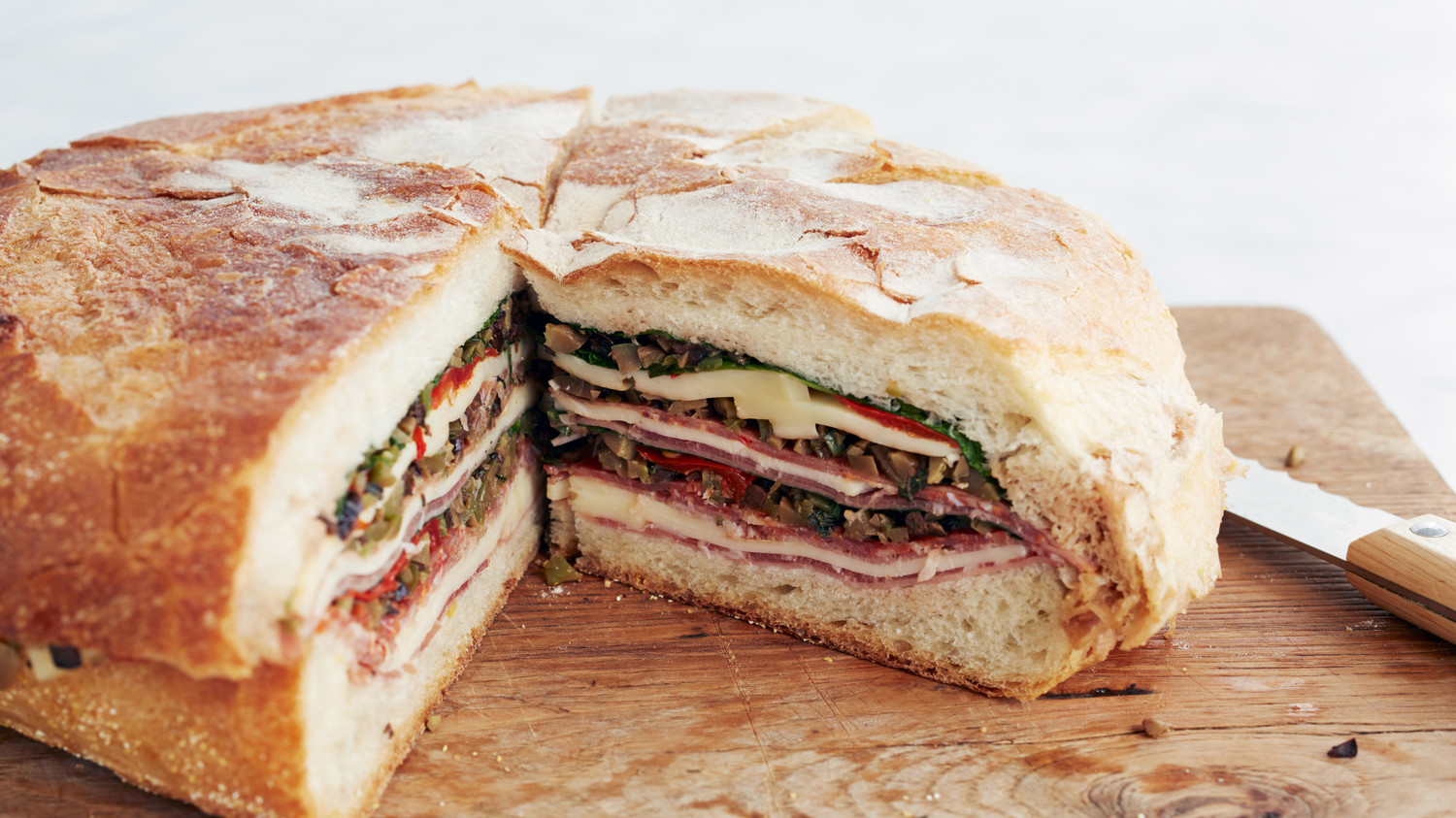 And here's a slice of Little Vic's version, made up with panini bread and delicious. With the rest of the tour ahead of us, we were grateful for the smaller portion, which was nevertheless as wonderful as any muffaletta I'd ever had before. In fact, I want one right now!
After Vic's, time for a sweet stop, with a French note; after all, it is called the French Quarter. That's a remnant especially of the times just after the Louisiana Purchase; the arriving Americans left the area pretty much alone and started their own settlement, called Lafayette, in today's Garden District. Willy-nilly through the 19th-century French Creoles gave way to Irish and Italian and other immigrants, but the name stayed.
The macarons were tasty at Croissant d'Or, but frankly, I was deeply disappointed at the styrofoam coffee cups. It might have been wonderful coffee to begin with, but the flavor added by the styro killed it.
On the way to our next stop, we walked through some of the interior streets of the Quarter with their iconic architecture, which now may not be much modified because of historic zoning. Above the ground floor, at least.
As you can see in the ground floor scene on Bourbon Street, it's pretty much a parody of what it once may have been, with tacky bars selling yard-long margaritas alternating with souvenir stores and an occasional grind bar. But there's still a charm to most of the area. And, occasionally a tasty treat of another sort.
Go a bit further along Bourbon Street, though, and you find more to live for. The Clover Grill has had the corner for nearly 80 years and has a (self-proclaimed) reputation for the 'World's Best' hamburgers; our guide recommended it for all-night breakfasts.
But our goal wasn't clover: it was the most New Orleans of sandwiches, the legendary poboy, also known as po-boy or po'boy. Like all classics, it has a wealth of origin stories—all of them no doubt true—and it is definitely NOT just another name for sub/hero/grinder.
The po'boy starts with a baguette-like bread, but softer, and is filled with any of a variety of fillings: oysters, catfish, sausage, crab, chicken breast, crawfish, French fries, and especially sloppy roast beef (see below). Dressed with lettuce and tomato and pickles or not, everyone has a favorite and favorite sauces and spices to put on it. We ate at NOLA Poboys, started by a native who returned after Katrina after living elsewhere.
We didn't have time to check out the local ice-cream flavors after our sandwiches, but some of them looked delicious and interesting.
At the corner past NOLA Poboys is New Orleans' oldest bar, once a blacksmith shop and called Lafitte's Blacksmith Shop after the famous pirate/criminal/hero (your point of view may vary). It may or may not have any real association with Lafitte, but it is one of only very few buildings in the Quarter with a peaked roof. During the 18th-century Spanish ownership of the city, after disastrous fires, flat roofs of fire-proof material were required.
Our last stop on the tour was at Cafe Fleur de Lis, where we had shrimp and grits, buttery and topped with cheese. In all, a filling walk in a fascinating area. And while we felt we had eaten quite a bit, we still found room for dinner!
The tour was actually our first meal in New Orleans. Aside from Dookie Chase, we ate at two other restaurants with a special Louisiana twist, both Cajun where most of what we ate on the tour belonged to a Creole tradition. Put in short (and arguable terms) the first started out as an urban descendant of European cooking, but with local ingredients, while the second comes from the countryside settled by French refugees from Nova Scotia (Acadia) and carries more spice).
In New Orleans, we ate at the excellent and casual-elegant Cochon, run by well-known chef Donald Link. It was excellent and fun, but my real favorite was 'way out of town.' At the Whitney Plantation (future blog!), a plantation devoted to telling "the story of slavery," we asked for a place to eat lunch after and were directed to drive about 10 miles further to Vacherie and B&C Seafood Market and Restaurant.
Simple, unpretentious, inexpensive, and wonderful. And despite everything we'd been told, the iced tea was unsweetened! We enjoyed a plate of boiled shrimp, an excellent cup of chicken-and-sausage gumbo, and the bounty of the fryer: deep-fried okra, hush-puppies that actually had flavor, and corn nuiggets, which were basically spoonfuls of creamed corn dropped into the fryer. Is that healthy eating? Well...but delicious!
We also found time for the Southern Food Museum, a loosely-organized collection of a lot of things to do with food cooked and grown in the South, and some history of New Orleans' markets (it's located in a former market hall). Among the items that caught my eye: signs that reminded us of the city's variety, and an exhibit on the history of a local specialty that became a national chain.
Is there more for us to eat in New Orleans? You bet. Next trip. And there will be one!