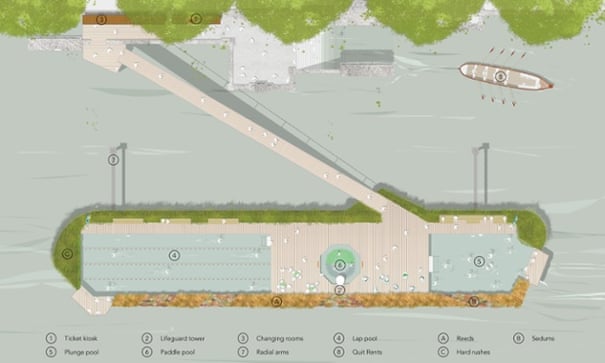 Recreation advocates have launched a well-publicized Kickstarter campaign to help fund construction of a floating freshwater swimming pool in the Thames, just off the Embankment.
The project, called Thames Baths, whose full cost is estimated at about $16.5 million, would include several pools, heated and freshened. The Kickstarter campaign is asking for about $185,000, and those who contribute will get swim time or memberships if the project succeeds.
It's not a new idea: many cities, including New York, London and Paris have had floating baths in the past. The last one in Paris, the Bains Deligny, was anchored off the Tuileries until 1993, when it sank. Just a few years ago, Paris launched a new one, the Piscine Josephine Baker, anchored near Bastille.
Top illustration from Studio Octopi, the project's designer; Paris photo: Wikimedia / dinkum