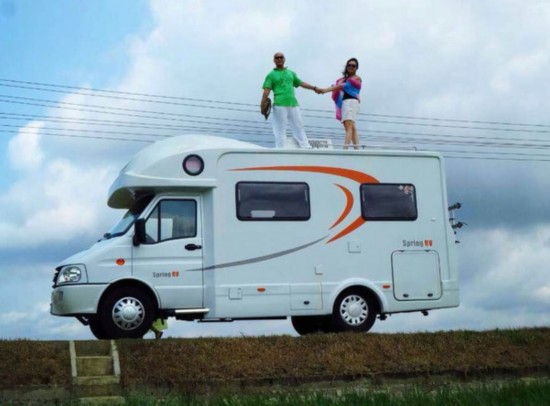 Retired couple from Shandong Province on roof of their RV on tour. Photo: China Daily
China's growing numbers of people with money to spend on travel aren't all headed for Europe and the Americas—growing numbers are taking to China's highways in their new SUVs for self-drive trips to popular destinations.
The new trend, which added up to more than 2.2 billion self-drive trips last year, mostly to areas known for their tourism infrastructure (hotels, roads, worthwhile sights or destinations), has been researched by a team at the Shanghai Academy of Social Sciences, which surveyed tourists at 40 cities.
Wang Zheng, deputy head of the Academy, says that "Some 300 million licensed drivers and increasing numbers of private cars, have made self-drive touring part of their lifestyles." Estimates from the surveyed areas suggest it's already a $15+ billion business, and have spurred calls for expansion of the country's highway network and better roadside hospitality facilities.
For more information, from the Chinese newspaper People's Daily, click HERE